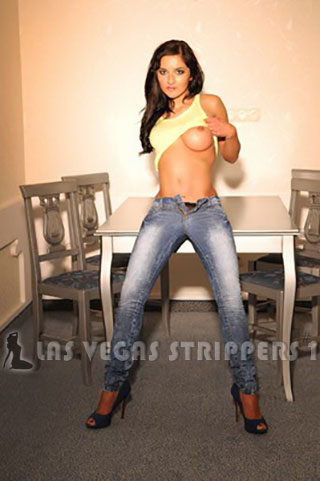 Las Vegas isn't just for the boys. It's a perfect location for a girls night out as well. From bachelorette parties to just getting away from the old ball and chain to have fun with your sisters from another mister, Sin City has got you covered. And don't worry, there's so much more fun to be had in Las Vegas than just strip clubs. Here are just a few things to do and tips to consider when wanting to have fun in Sin City.
Yes, Let Them Know You're a Bachelorette Party
We've all seen it. The group of girls decked out with shirts or sashes or crowns or inflatable pink penises proclaiming to the world that yes, they are in fact a bachelorette party and that one woman (the one with the extra-sized tiara) was going to get hitched sooner rather than later.
Whether you think this is over the top or attention-grabbing you'd be completely right. It is. But that's the beauty of it. Why? Because people are going to buy you drinks. Everywhere you go. Guys like to play it a bit more low key. Or, at least not deck themselves out in that kind of clothing. But they could be missing out on hundreds of dollars worth of free drinks. So let them know it's your bachelorette party (and we're not saying to make it up...but we're not not saying it either...because free drinks are free drinks).
There are More Great Shows For You Than Guys
Guys have strip clubs. That's their "show." There's a reason why Brittney Spears and Mariah Carey have extended stays in Las Vegas and not Phish or Bruce Springsteen. Because women love to go to these. Guys would much rather just have some plastic injected boobs in their face.
But maybe you'd like to have something on the "adult" side swinging in your face as well. Beyond the Thunder From Downunder shows, you can also check out many of the male strip clubs. And if you are with your boy toy or husband for the weekend, try this bet on for size: you'll go with him into his strip club, if he goes into yours. It'll be much more fun for you. Promise.
Skip the Casino Floors
If you're a gambler, by all means, have at it. But most people who don't go to Vegas are not gamblers, which is why they end up losing way too much money. And do you really want to pump coins into a slot machine for an hour or two? Instead, save the cash and go to one of the clubs inside the casino. If you're looking for love or just a weekend fling, you're more likely to find it in a club than at the old timer sucking down cigarettes and Manhattans next to you.
Book a Promoter
If you have a group, book a promoter. Yes, this is cash up front, but it's well worth it. The promoter knows people at doors and can not only help you skip the long lines to get into clubs, but they can slip you into the club often without the cover charge. If you have a group of you this kind of pro pays for him or herself instantly. And while yes, there probably are more guy promoters than girls, you can find any person who will be able to take you around and show you the ropes.
Spa Time
Would it really be a girls weekend without a trip to the spa? Not really. But before you just head down to the hotel spa make sure to do a bit of research into this. Some hotels are great for regular relaxation spas, while others are much better at facial treatments and massage. You'll also probably pay less if you head out of the strip for a spa service that isn't in a hotel. Hotel spas are nice, but you'll pay more for it.
Of course, maybe you don't want to drive after a relaxing spa. Nothing is more frustrating than navigating the traffic of Vegas when you don't know it (and most of the drivers around you are from out of town as well). Thankfully, most spas will pick you up and drop you off. So enjoy yourself with some solid spa time.
VIP at the TAO
The Venetian Hotel has a number of clubs. The best is probably the TAO. And why go VIP? A number of reasons. First, your drinks are usually packaged into it. Second, you'll be off, away from the regular crowd of partiers. This is helpful not only because it gives you a bit of breathing room but because it helps siphon off most of the creepy dudes who will be trying to stalk you.
There will always be "those guys" lurking around. You just need to know the best options and the best ways to move around away from them. The promoters can help with that (this is one of the benefits of booking a girl promoter and she is going to know first hand what to do and what clubs are better than others). And at the Venetian TAO, it's open enough for you to talk if you want to, or to drift off and go about on your own activities. After all, it is the girls weekend.
Las Vegas isn't just for the boys. In fact, you'll probably discover there are just as many if not more women there. From having a solid drink at a local bar to taking in one of the many shows, there is always something for you to see and take in. So what are you waiting for? Now is the time to come on out to Sin City with the girls and have a blast.